When it comes time to replace worn out cables and housing on your bike, you'll inevitably come across the two big brands – Jagwire and Shimano.
Both companies produce quality cables and housing that lasts a long time. 
However, they take slightly different approaches when it comes to cable construction and performance.
In this post, we'll compare Jagwire vs Shimano cables and housing across several factors to help you choose the best option.
Jagwire Vs Shimano Housing Cables
| | | |
| --- | --- | --- |
| Feature | Jagwire | Shimano |
| Cost | Similar pricing. Often runs discounts and sales  | Similar pricing on kits and bulk spools |
| Performance | Compressionless brake housing, slick coated cables | Smooth shift housing, Optislick coated cables |
| Availability | Widely available, often OEM spec | Widely available |
| Aesthetics | Many color options | Mostly black housing |
| Construction | Lined housing, compressionless brake housing | Lined housing, standard brake housing |
Let's take a look at some of these plus others in more detail:
Cost
When looking at price, Jagwire and Shimano cables and housing are fairly comparable. 
Also Read: Microshift vs Shimano
Full cable kits from both brands tend to run from $20-50 depending on quality level and whether it's a road or mountain kit. 
The Pro-level kits with compressionless housing and coated cables run at the higher end.
Buying bulk housing and cable spools can save quite a bit over pre-cut kits. 
Jagwireshift housing runs around $1.25/meter and brake housing around $1/foot when buying bulk spools. Shimano pricing is similar. 
For shift cables, you can get bulk spools of Jagwire or Shimano for around $0.60 each in large quantities.
Oh and Jagwire frequently runs sales on their products so you can sometimes get a deal!
Performance
In terms of smoothness and durability, Jagwire and Shimano housing cables are on par again. 
According to user reviews, both brands provide crisp shifting performance and lasting quality.
A key difference is that Jagwire offers compressionless brake housing on their Pro-level kits, while standard Shimano brake housing can compress under load. 
Compressionless housing maintains a firm brake lever feel. 
However, Shimano's shift housing is very smooth running.
Also Read: Is Schwinn A Good Bike?
For cables, Jagwire's coated models like Slick Stainless have a liner to reduce friction. Shimano's Optislick cables have a hard polymer coating for the same purpose. 
And both seem to work well to improve shift smoothness.
So in terms of performance, Jagwire gains points for their compressionless brake housing, while Shimano's shift housing and cables are silky smooth. 
Availability
Jagwire and Shimano cables and housing are both easy to find at most bike shops. 
You can also easily find them online at sites like Amazon. 
Jagwire likely has a slight edge for availability, as they offer more options for OEM parts on production bikes. 
But both brands are easy to source either way.
Aesthetics
If matching colors is important to you, Jagwire provides more options.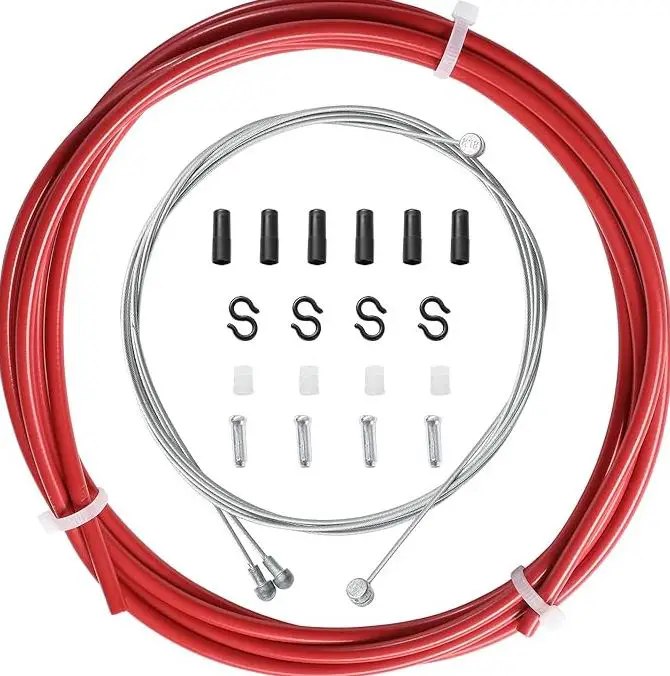 They offer their cables and housing in a wide range of colors to customize the look. 
Shimano sticks to mostly black for their housing. But they do have some colored shift cables like green and blue.
So Jagwire gives you more flexibility if coordinating colors with your bike frame and components. But Shimano still offers a sleek, understated look in black.
Also Read: Shimano Tiagra vs 105
Cable Construction
Jagwire uses a lined housing on most models like the LEX-SL to reduce friction. The liner helps the cable glide smoothly. Shimano SP41 housing is also lined.
For shift cables, Jagwire utilizes a tightly wound stainless steel wire coated with a slick polymer. 
Shimano's Optislick cable is similar with a hard polymer coating to reduce friction.
The key difference comes with Jagwire's compressionless brake housing. It has a coil reinforcement to avoid compressing under braking forces. 
This helps maintain a firm lever feel. Standard Shimano brake housing can compress somewhat.
Both brands recommend lubricating the cables. Jagwire packages their LEX-SL housing pre-lubricated, while Shimano offers a silicone grease specifically for cables.
Conclusion
In the end, it's hard to pick an outright winner between Jagwire vs Shimano cables and housing. 
Both deliver excellent performance and durability. Jagwire offers compressionless brake housing and more color choices. But Shimano's shift performance is buttery smooth.
For most riders, either brand will likely work great. 
I would recommend trying both Jagwire and Shimano cables and housing. 
Also, take advantage of sales when possible. And consider buying bulk housing and cables instead of pre-cut kits to save money!
FAQs
Is Jagwire A Good Brand?
Yes, Jagwire is a good brand known for manufacturing high-quality bicycle components and accessories, particularly for their range of brake and shift cables and housing. 
They have a ton of reviews and are generally well-regarded in the cycling community for their durable and reliable products.
Jagwire vs Dura Ace
Jagwire's slick Elite cables combine a tightly wound stainless steel wire with a smooth polymer coating for low friction. The coating avoids the sticky residue that can occur with Dura-Ace's PTFE coating over time. 
For housing, Jagwire's compressionless options maintain crisp shifting by avoiding housing flex. 
Shimano's Dura-Ace housing is also highly durable. 
While the Dura-Ace cables and housing are slightly lighter, many mechanics prefer the long-lasting smoothness of Jagwire's Elite cables. 
Jagwire's Pro shift kits also contain more end caps and installation accessories than Shimano.