With so many brands manufacturing cycling components today, choosing the right derailleurs, shifters, and drivetrain parts for your bike can be challenging. 
Two of the biggest players that you'll likely encounter are Microshift and Shimano. 
Shimano has long been the undisputed leader in the bike component world, known for its engineering innovation and premium performance. 
But Microshift has rapidly been making a name for itself in recent years, producing components that rival Shimano's smoothness and quality at a fraction of the price.
So how do Microshift vs Shimano compare? 
In this post, we'll evaluate some of the key differences between these two component giants.
We'll look at criteria like price, durability, performance, weight, availability, and compatibility to help you determine which brand is the better choice for your cycling needs and budget.
Shimano Vs Microshift 
| | | |
| --- | --- | --- |
| Factor | Microshift | Shimano |
| Price | More affordable, lower cost components | Typically more expensive, higher cost |
| Quality | Impressive for the price, durable materials | Top-tier models offer premium construction |
| Performance | Very good, smooth and accurate shifting | Excellent, ultra-smooth and precise |
| Weight | On par with Shimano for most components | Lighter for high-end carbon offerings |
| Availability | Growing distribution channels | Widely available both online and in shops |
| Compatibility | Works great with Shimano drivetrains | Broad compatibility across bikes |
Also Read: Shimano Tiagra vs 105
Here's a detailed comparison of Microshift vs Shimano on some of these factors:
Price And Value
The most obvious difference between Microshift and Shimano is price. 
Broadly speaking, Shimano components are more expensive. 
For example, a Shimano 105 11-speed rear derailleur costs around $60, while a comparable Microshift R11 rear derailleur is priced at about $25.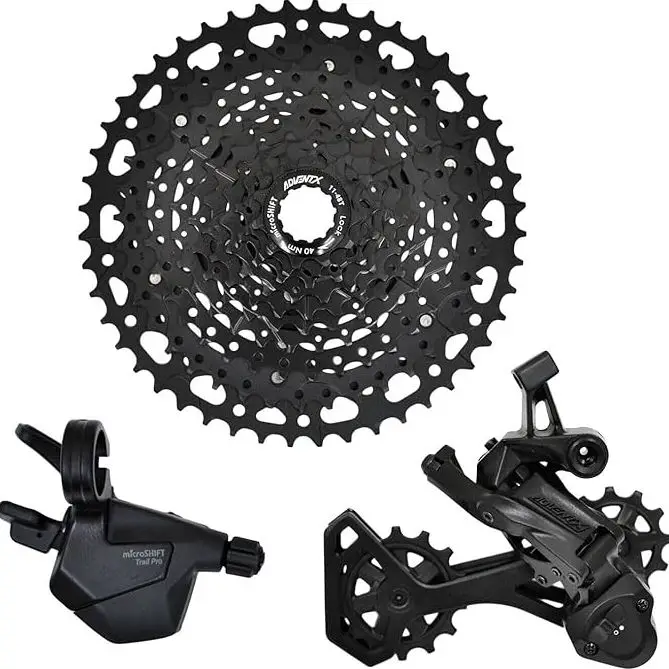 However, the extra cost doesn't always mean extra performance or quality with Shimano. 
Microshift punches well above its weight class, providing impressive quality and smooth shifting for a fraction of the price of many Shimano components. 
For budget-minded builds or upgrades, Microshift offers incredible value.
Durability
Shimano components are known for their durability and longevity. 
They are designed to withstand heavy use and can last for years with proper maintenance. 
Microshift components, while not as durable as Shimano, still offer decent quality and are built to withstand regular use. 
However, they may not last as long as Shimano components, especially for more serious cyclists who put a lot of miles on their bikes.
Quality
Both brands produce components using aluminum, steel, and carbon fiber. And the materials used are largely the same grade.
In general, Shimano and Microshift have similar quality construction at most mid-range price points.
For example, an entry-level Claris rear derailleur from Shimano versus a similar Advent model from Microshift will offer comparable durability and smoothness during regular cycling. 
Also Read: Can You Use Sram Rotors With Shimano Brakes?
At the highest levels, Shimano's carbon offerings are crafted with more sophisticated molds and exotic alloys, giving them the edge in weight and rigidity. 
But for average cycling needs, Microshift delivers without the costly premium.
Performance and Smoothness
Shimano components are widely regarded as some of the best in the industry in terms of performance. 
They offer smooth shifting, precise control, and excellent power transfer. It's their advanced engineering that gives it an advantage in shifting consistency and control. 
For example, features like Shimano's Shadow Plus clutch design, optimized pivot placements, and Hyperglide cog tooth profiles enable superb responsiveness between shifter and derailleur.
Microshift components, while not quite on par with Shimano, still offer good performance and have dramatically closed the gap. 
Models like Advent and Arsis now mimic many of Shimano's signature tech innovations. 
Weight
In the high-performance realm, Shimano dominates with featherweight carbon derailleurs, cassettes, and shifters. Their top-end groups like Dura-Ace Di2 are engineered with weight reduction as a priority.
At more modest price points though, Shimano and Microshift components have similar weights as they utilize comparable aluminum alloys and steel grades. 
A Shimano Tiagra derailleur weighs just about the same as a Microshift Advent model of the same size and tooth capacity.
So for racers and weight weenies, Shimano has the upper hand. 
But for the average rider, Microshift and Shimano weights are largely on par when comparing models of the same speed and materials.
Availability
Thanks to its decades of OEM spec and aftermarket popularity, Shimano components are widely available both online and at most local bike shops. 
Replacement parts, accessories, and service knowledge are super easy to find.
Microshift is less ubiquitous, but has vastly expanded its worldwide distribution network in recent years. 
Major online retailers like Wiggle, Chain Reaction Cycles, and Merlin carry Microshift groups.
Compatibility
One of the biggest advantages of Shimano components is their compatibility with a wide range of other components. 
This makes it easy for cyclists to mix and match different parts to create their ideal setup. 
Also Read: Can You Use A SRAM Cassette With Shimano Derailleurs?
Microshift components, while compatible with most other components, may not be as versatile as Shimano. 
This can limit the options available to cyclists who want to customize their bikes.
Verdict
IMHO Microshift provides incredible value, punching well above its class with impressive component performance at budget-friendly prices. 
Racers and enthusiasts seeking the absolute pinnacle in lightweight performance and silky smooth shifting may still prefer Shimano's top-tier offerings. 
But for everyone else, Microshift delivers quality durability and function at a fraction of the cost. Component for component, Microshift offers better value for most cyclists.
FAQs
Microshift Advent vs Shimano Deore
Shimano Deore is better than the Microshift Advent drivetrain. 
The Microshift Advent does not offer any weight savings, gear range, shifting, or cost advantages over the Shimano Deore 1×11 drivetrain. 
For example, the Advent X cassette is nearly the same weight as the Deore cassette despite claims of it being much lighter. 
And it also has a smaller gear range, unknown long-term durability, and is more expensive than the full Deore groupset.