Last updated on August 27th, 2023 at 04:23 am
This product list contains affiliate links. This means that at no extra cost to you, I may earn a commission if you use one of these links to make a purchase.
Shimano is one of the most popular brands of bicycle components, and their Tiagra and 105 groupsets are two of their most popular options. 
Both of these are great options but if you are wondering what the differences between these two groupsets are, you come to the right place!
In this post we will take a closer look at the differences between these two groups to help you decide which one is right for you.  
The Difference Between Shimano 105 and Tiagra
Both the Shimano Tiagra vs 105 offer excellent value and performance, but there are some key differences to consider when choosing between the two. 
The main difference between Shimano Tiagra and the 105 is that Tiagra has only 10 gears, a 10 speed cassette, weighs more, but is cheaper while the 105 has 11 gears and a 11 speed cassette, a better chainset and great shifters with a better experience.
Here is a more detailed comparison: 
Also read: Center lock vs 6 bolt brake rotors
Gears
The biggest difference between the two groupsets is the number of gears. 
Shimano 105 has 11 gears while Shimano Tiagra only has 10. 
This may not seem like a big deal, but if you're someone who likes to ride in the mountains or on hilly terrain, those extra gears can come in handy.
Cassette
Shimano 105 has an 11-speed cassette with a range of 11-32 teeth, while Shimano Tiagra has a 10-speed cassette with a range of 12-28 teeth. 
This gives you more gears to work with on the 105, which can be helpful if you're climbing hills or trying to go fast on flat terrain. 
Price
Shimano 105 is more expensive than Shimano Tiagra.
That's because it uses more expensive materials and construction methods, which result in a higher-quality product that weighs less and lasts longer. 
If you're looking for the best bang for your buck, Shimano Tiagra is probably the way to go. 
But if you can afford it and you want a group setting that will last longer and perform better, Shimano 105 is worth the extra money.
Brakes
Shimano 105 brakes are direct-mount caliper brakes designed for road bikes. 
They offer great stopping power and modulation, making them ideal for racing or riding in traffic. 
Shimano Tiagra brakes are also direct-mount caliper brakes, but they're designed for a wider range of bikes including road, cyclocross, and touring bikes. 
They offer good stopping power and modulation, making them a great choice for all-around riding. 
If you're primarily a road rider who occasionally ventures off the pavement, the Shimano 105 brakes will be a great choice. 
On the other hand, if you ride everything from gravel to tarmac, consider Shimano Tiagra brakes because they work well across a variety of terrain.
Front Derailleur
Both the Tiagra and the 105 front derailleurs are extremely comparable, with the only discernible difference in weight being a handful of grams.
Another distinction is that the Tiagra is a 10-speed drivetrain and can have a big chainring with up to 52 teeth in it. 
The 105 derailleur has 11 gears and can accommodate chainrings with up to 53 teeth on the big chainring.
Rear Derailleur
Both groupsets include derailleurs that can be purchased in either a short or long cage version, depending on which cassette the rider intends to utilize. 
Tiagra short-cage derailleurs can accommodate at least a big socket with 28 teeth, while 105 derailleurs can handle sprockets with up to 30 teeth.
Both groupsets can accommodate a sprocket with 34 teeth in the long-cage variants, but only the 105 R7000 groupset can shift to a chainring with 40 teeth in it without any difficulty.
Chainset
The Shimano 105 chainset is a high-quality option that is often seen on mid to high-end road bikes. 
It offers great value for the money and is a durable option that will last for many miles. 
The Shimano Tiagra chainset is a more budget-friendly option that is often seen on entry-level road bikes and recreational bikes. 
It's not as durable as the 105, but it's a good option for those on a budget.
Weight
When compared to the Shimano Tiagra groupset, the superior manufacturing quality of the 105 handle results in a weight savings of over 300 grams. 
Even though the threaded variant is much a little heavier in percentage terms than the 105 one (above), you are still only carrying 15g, which is insignificant when considering the overall weight of your bike.
STI Levers
The shifters themselves are the primary distinction. 
The 105 shifters provide a more precise shifting experience than Tiagra and are manufactured with slightly higher grade materials.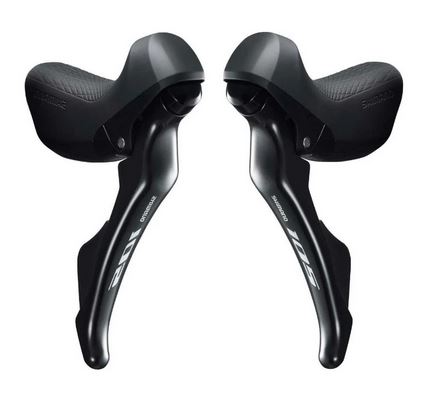 The difference in weight between 105 shifters and Tiagra shifters is less than 20 grams. 105 shifters and Tiagra shifters are virtually identical. 
This is because both the Tiagra and the 105 levers are made out of glass-fiber reinforced plastic. 
You might also note that the motion of 105 is just a tad bit more snappy.
Should You Upgrade From Shimano Tiagra to Shimano 105?
If you're looking to upgrade your bike from a Shimano Tiagra to a 105, there are a few things to consider. 
Also read: Difference between men's and women's mountain bikes
The first thing to note is that the differences between these two groups are mostly aesthetic. 
For example, the Shimano 105 groupset features an updated crank design that offers better compatibility with modern carbon cranks and allows for easier installation of wider tires or rim brakes. 
The other noticeable difference is that the Shimano 105 groupset has an updated rear derailleur design which has a more ergonomic shape, allowing for better access to the brake hoods while climbing and descending.
If you already own a Shimano Tiagra, you should consider upgrading to a 105 group if your budget allows it.
Verdict
Both of these are great, but which one should I choose? First, think about what you need the bike to do. If you're looking for a race-worthy machine, Shimano 105 is the way to go. 
However, if you're just looking for a reliable bike to get you around town, the Shimano tiagra will do the job just fine. 
Second, consider your budget. Shimano 105 is more expensive than Shimano Tiagra, so if money is tight, Tiagra may be the better option. 
Third, think about your riding style. If you're an aggressive rider who likes to push the limits, Shimano 105 can handle it.